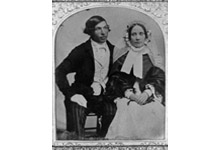 Britain's Oldest Wedding Photograph
Hello! Welcome to my new blog.
Just to kick off…here is (probably) Britain's oldest wedding photograph.
Taken in 1856, it shows Hannah Pratley marrying farmer George Taylor at a traditional ceremony in Cheltenham. Wedding photography would have been practised before 1856 but no earlier examples have been found in Britain.
Well, at least they've avoided the petrified grin look! Nice hat too.